Faculty Focus with Dr Karthik Gopal: Bringing a safe doctor out to the world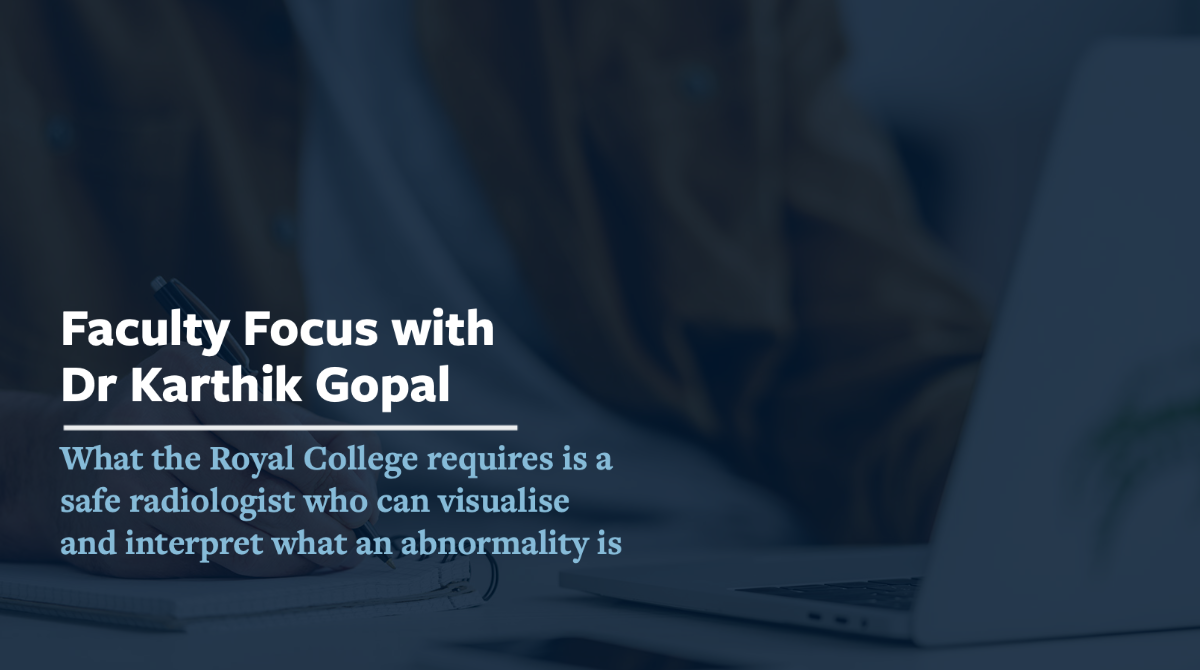 Revise Radiology
May 16th, 2023
Interview with Karthik Gopal
This article is from a transcript of an interview with Dr Karthik Gopal. Dr Gopal is the Clinical Lead of Everlight Radiology, a teleradiology company that has hundreds of experienced, FRCR-trained radiologists around the globe. These radiologists will be with us on the Everlight course on 1-2 June 2023. Read as Dr Gopal explains his career, teleradiology, and the running of the course.
Q. Please could you tell us a bit about yourself and your career to date?
Education
I did my undergraduate training in Chennai, India. Later, I moved to the UK and went on to do a post-graduation in General Medicine/Cardiology. Then, I moved into radiology as a CCT candidate and trained in Manchester. I finished that with a subspeciality in body imaging and cross-sectional imaging.
Career to date
I worked as a consultant in a large district general hospital at Warrington, UK. This journey took about two decades of work in the UK.
Teleradiology
After that, I started to move into the teleradiology space. That was in the early days of teleradiology. The way it worked was very attractive. It gave one flexibility and an ability to work from home. So, we were able to cater to waiting lists in the hospital, clear backlogs, and do things like that.
Then as we moved along, I moved geographies, from one continent to another. Technology was getting better and the internet got super fast. So more and more options were being thrown at me. The next phase of life was being a teleradiologist, in the UK as well as out of the UK. I'm now in India doing teleradiology work for Everlight, in a seamless fashion.
Q. What are your specialisations / interests and why did you choose them?
My specialisations are in cross-sectional imaging, from ultrasound to CTs and MRIs. As a general radiologist, you also cover all the other bits of radiology. But I also specialised in gastrointestinal, that is bowels, hepatobiliary, liver, bile, genitourinary, which is the kidneys and the urine and the bladders, and pelvic imaging. I ended up specialising in everything below the diaphragm - the abdominal structures.
We've become a little innovative and have started to do ultrasounds of the bowels. You're always trying to see something different in another modality. How can you make a difference in quicker or less radiation-based imaging? Those were the small factors that kept my mind active. In these sub-specialities, you can do things differently from the traditional way. I started doing it and that's how my interest developed in that part of body imaging.
Q. Could you tell us a little bit about Everlight Radiology?
Everlight is a global teleradiology company. We follow a process called 'Follow the Sun'. A radiologist works when the sun rises and gets on with social activities when the sun sets. And as you can imagine, the sun rises at different times across different geographies. So by this process, we cover the 24-hour cycle in a day. So nobody gets overstretched, but the service still happens. That's the policy and goal of the company. The radiologists are doing well within their working day so the system or the NHS is gated for 24 hours.
We have a presence across the world. We have Radiologists all the way from North American countries to Tasmania in Australia and New Zealand too. The same goes with the back-end team who makes it all happen as well. They are also spread across the globe.
Q. What is your association with the Everlight FRCR 2B Course?
As the Clinical Lead, I take the lead in organising the back end of the Everlight Radiology course. This is the very first course that we are rolling out within the UK.
This course is a homegrown course. All the examiners are part of the Everlight team. Some of them are co-working in the NHS as well, with a lot of subspecialty experience between them. Since we are a large teleradiology company, we deal with thousands of images.
In fact, we have millions of images. You can imagine how many pathologies or abnormalities we encounter. We use this as our basis to teach and examine the candidates.
We will cover a spectrum in the course, ranging from what we call on-call emergency work to routine work. For example, people coming in with a little headache or pain. We will cover a broad umbrella of abnormalities. The candidates can have a look, understand, and learn how to manage them. As the clinical lead, I had to put all these things together and place them in a ball so we can run a very successful course.
We are doing this as an eCourse, as an online course to start with. We would like to cater to radiologists across the world, to be a stepping stone in their careers.
Q. What is the most important thing a registrar needs to know when they sit the FRCR 2B exam?
People have different thoughts on the FRCR exam, especially when it comes to the 2B. When a radiologist comes to the level of 2B, they've gone through the basics of Part 1 and 2A. The theoretical knowledge is there. They've already become a good radiologist who has come up to that level of 2B. What the Royal College requires now is a safe radiologist who can visualise and interpret what an abnormality is. Can they see what it is? Can they come to a reasonable conclusion in a few terminologies? We are clinical radiologists. That's the missing terminology between a successful and non-successful FRCR 2B candidate. It's not the knowledge, it's the clinical radiology. At the end of the day, we are doctors. Though we are looking at images and trying to tell something from them, we have to be clinical in our minds. How do we help or guide management?
It is our duty as a doctor to the patient to make sure that we do the right thing. For example, seeing something and stating it's cancer and moving on is not going to help. We have to make sure it's cancer. And if it is, how do we not waste time moving on from here? Simple things like that are well-written protocols to be done. But that's exactly the one thing needed if somebody has to be a successful FRCR trainee.
It's not the knowledge, it's the clinical part of it. They do not just have to identify an abnormality. But also think about how they are going to help the patient in the whole journey.
That is one reason why the FRCR has value across the world. It's just not the entrance to the UK. You go along anywhere and they understand that you are at a standard. That's what the FRCR brings to you. They don't need to question you at that point. That's the beauty that the examination brings because it brings a safe doctor out to the world. Whether they want to be part of the NHS or part of another health system in the world after that is irrelevant.
Q. Do you have any particular advice for Radiologists from abroad trying to sit the FRCR?
In my experience over the decades, there is a difference between international candidates and UK candidates. It is not to do with knowledge. It comes down to how safe you are. Can you react to situations of abnormalities you see? Sometimes you need to react faster. Like when you see a perforation or pneumothorax, you might need to react faster because that might kill the patient. The exams are not difficult, it simply wants to make sure you're a safe doctor.
The other thing they want is to make sure you're a clinical radiologist. So for foreign graduates, I would advise them to try and work on the clinical radiology aspect. And not only during the exam but rather at work, wherever they are. Knowledge is not a problem with the graduates that I see. Be a clinical radiologist at work. Everything flies through automatically. It's so hard to be a clinical radiologist at the exam if you're not one at your practice. That's very difficult to do. So if they can practise that, all is done.
Q. How does joining an FRCR course help a registrar?
The examiners in a course have experience. They help the candidates by telling them what the right thing to say is. You have only a limited amount of time. And you have to bring out your knowledge. The examiners have to make sure that you are coming across as a safe doctor. So the course helps you to trim your knowledge. You're brimming with knowledge, especially one who's coming closer to the examination. They know about anything and everything, about all patterns and diseases in the body. We help to trim them to say what is relevant. How do you put it across? These are the tips that the course gives you. The course mimics a real-time experience of what you would feel in the examination.
You're given exactly the similar systems, what you're going to see in the exam. You know where the computer, bits and pieces are, simple things. You don't really need to think about all those things. The courses are very important. You have to learn the basics yourself. But when you come to the courses, it shapes you up so that you're right at the top, sailing.
Courses might be expensive. But it is worth attending it and getting through the exam on your first attempt, rather than repeating it again and again. That is the difference. And then you have to get the space in the examination schedule. Lots of things come along and then you have to pay again. So we might as well put in a good effort, have a good first time, get it through and move along.
Click here to read more about the Everlight FRCR 2B Course