Faculty Focus with Dr Nicholas Ridley: FRCR studying shouldn't be dry; link it to real knowledge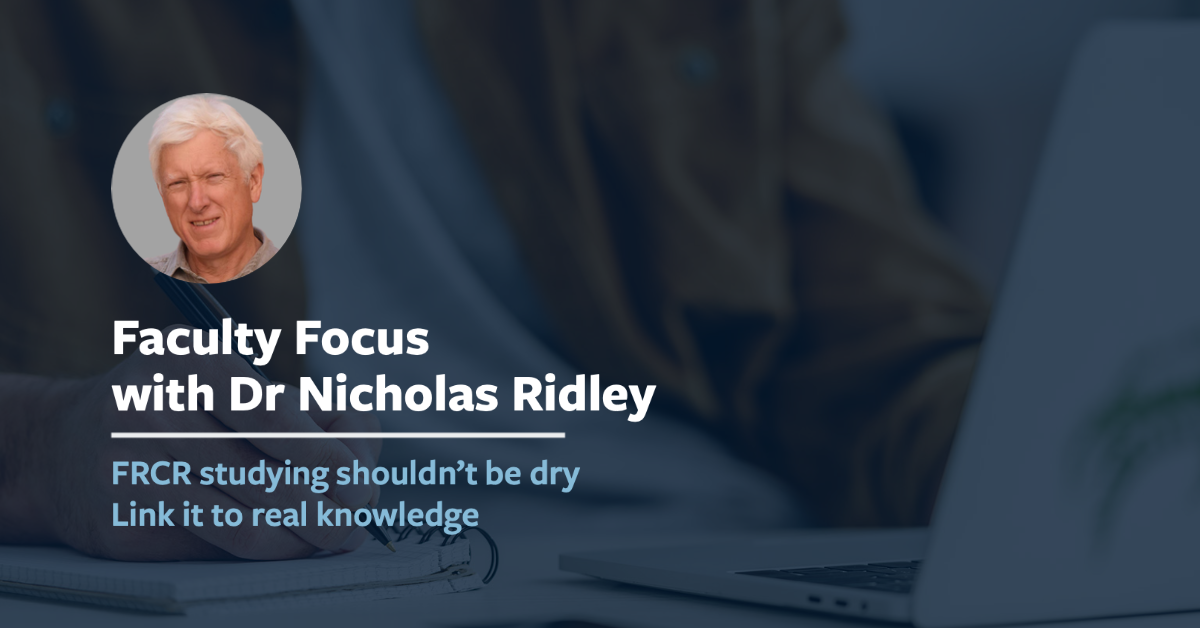 Revise Radiology
September 22nd, 2022
Dr Nick Ridley is a faculty member on the Revise Radiology FRCR Breast Imaging Course, to be held on October 17 2022. In this interview, he discusses the FRCR Exam and his advice for candidates who are sitting the FRCR Exam soon.

Hi, I'm Dr Nick Ridley. I'm a consultant radiologist at at the Great Western Hospital in Swindon and my sub-speciality interests are breast, MSK and ultrasound.
I've previously been the Treasurer of the Royal College of Breast Radiologists, also known as the BSBR. I've been the Director of the Wiltshire Breast Screening Program. I've also been lucky enough to be invited out to the European Games.
I've run my own courses, principally on RED DOT. I've taught on lots of courses as well. I've been the undergraduate lead for Bristol Radiology and so on, so I've done a little bit of FRCR teaching along the way.
Q. How long ago did you sit the FRCR 2A exam?
1993. The FRCR 2A exam has changed since then although the format and the principles are effectively the same. Nonetheless, I think my advice to candidates is: you really need to know what the exam is about and how to approach it. Of course, this course is going to help you with that.

Q. What was your preparation like for the Exam then?
We were using plastic films in those days and everything was written down. We didn't have the internet so things were sent in by fax. We would have to go first into a college, do the written exam and then do the actual Viva, which is, of course, the 2B now.

I'm a believer that for postgrad exams, you need to know what you're dealing with. My advice to the people who want to do the course and then write the exam is to get hold of books that will prepare them for doing the questions. So you need to understand how the examiners are going to set the questions.
Now, the best site I've found is a thing called Radiology Cafe. Also go to the Royal College of Radiologists website as there's lots of good advice and many references for books. 

Q. How did the FRCR Exam enable your career?
The first thing about the FRCR is that it's not an exit exam. For example, in Australia and New Zealand, they write an exit exam. The idea of the exit exam is you've virtually got all your knowledge. The FRCR is not quite there. So the idea is to do the exam and gain more experience afterward.
I was really lucky to do a year in New Zealand and that was a fantastic experience, not just for learning radiology but also for a life experience. It was a fantastic thing to do. And people can go all around the world. Doctors in India might come to the UK, for example, or go to the States. Australia is very popular as well. 
After a few years, I worked back at Northwick Park where I did my training and then I applied for consulting jobs in the UK. Getting a consulting job was difficult at the time, so that took a year or so. But I was very pleased with the job that I got.
The subspecialty interest I was into was MSK and breast, and that was the job I applied for. It's been fantastic. Career-wise, people usually have at least two sub-specialty interests, unless you go into a big teaching hospital. MSK and breast are interesting because they both involve a lot of minor intervention and they involve ultrasound. There's quite a lot of overlap between the two specialities that you maybe wouldn't think of. Also, I enjoy patient contact and so that was actually two very nice specialities to go into.

Q. What is your thinking behind the FRCR 2A Online Breast Imaging course?
I enjoy teaching and at this late stage of my career, it's quite nice to get what knowledge I have and hopefully pass it on to the next generation. I've been involved in Koshy's courses in the past, and I've taught on my own courses. We ran an FRCR course in Swindon.
I think there's definitely a need for 2A courses. During your preparation for the FRCR 2A Exam, one of the things I would encourage is to use actual radiology cases, or get somebody to take you through a series of films. If you see an example of gout, or of a breast cancer, you could then go and read up about that and the information can stick inside your head.
I think you shouldn't make 2A studying dry, you should link it into real radiology. Although there's no images in the 2A, you will have a real idea of the knowledge.
Before I did FRCR, I did a lot of courses and I went to a lot of people for teaching. I've also written the MRCP in the past and the part one of the MRCP is quite similar in some ways. And again I did loads and loads of books and I went on loads and loads of courses.
So, I thoroughly recommend people to go on FRCR courses. Yes, you have to do the work yourself, but you need a bit of guidance and people get tired of studying alone. Most people are working, they're holding down a job, they may have a young family and so on. And so doing a course I think is really useful.
Q. What advice do you have for registrars who are sitting the FRCR 2A Exam soon?
The first thing I would say is some practical advice: do the simple things.
So, make sure you get booked onto the exam and get yourself onto a course as well. Then, you need to get some books that deal specifically with the questions.
You've got a stem followed by some selections, and sometimes even if you don't know the answer, you can make an educated guess just based on some simple knowledge. There's no negative marking in the 2A exam as far as I know.
You need to do a lot of past papers. The college has some samples but the only way to get lots of questions is to buy a couple of books. I'd find out what books are out there. I would do loads and loads of questions and then standard reading.
Grainger and Allison, which was the textbook in my day, is still highly recommended
People talk about using Danhert as a radiology review manual. You can't read Danhert because it's too much information, but it's a good reference book.
I used to like Chapman and Nakielny, which is a smaller version of Danhert and maybe a bit more manageable.
Gerald De Lacey, he's got a very good book on trauma, on A & E, he's also got a good chest book. And I quite like the little books as well. They're just a bit more manageable.
Dr Nick Ridley is a Consultant Radiologist who has been involved in the South West FRCR courses almost from their inception. He was one of the co-organisers of the Swindon FRCR course and also attended the first SWFRCR course in Kochi in 2018. He is enthusiastic about teaching and has done a talk for Revise Radiology on metabolic bone diseases. The talk is available on the website.