Faculty Focus with Dr Susan King: The most important thing is seeing lots of cases beforehand, so that...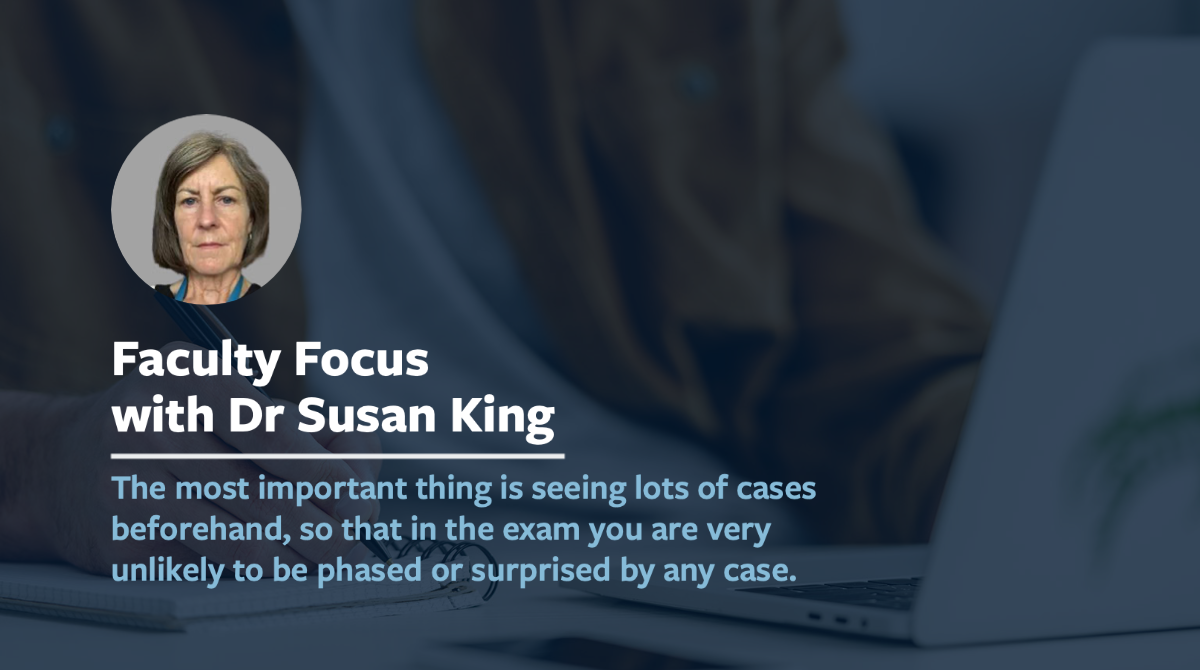 Revise Radiology
December 13th, 2022
Interview with Dr Susan King
This is a transcript of an interview with Dr Susan King which has been edited for clarity. Dr King has been an examiner on the South West FRCR 2B Course. In this interview, she discusses the importance of viva courses and how they can help a registrar sitting the FRCR 2B exam.
Q. Please could you tell us a bit about yourself and your career to date?
Before I did radiology, I was a clinical paediatrician. Then I trained in radiology at King's College London. I went on to do a year's fellowship in paediatric radiology at Toronto Sick Children's Hospital. It gave me a good grounding in all sorts of paediatric radiology across the whole spectrum of subspecialties.
When I came back to the UK, I got my first consultant job at Alder Hey Children's Hospital Liverpool as a paediatric radiologist, I was there for nearly seven years. I was at Bristol Children's Hospital for about four years for a consultant post, after which I went to Weston General Hospital in Weston Super Mare. I am now in Taunton Hospital, Musgrove Park Hospital. I do paediatric and general radiology, but mostly head and neck and body MRI.
Q. What are your specialisations and interests and why did you choose them?
I chose Pediatric radiology because that was my clinical background, and I enjoyed it. I wanted to do imaging of children of all ages, but I'm particularly interested in newborns and preterm babies. I also did quite a bit of head & neck paediatric radiology in Liverpool, and I'm glad that I can continue that. And one of the reasons I do that is because anatomy and pathology are quite challenging.
I found that you can have good radiological relationships in clinical services. It seems that they're very dependent on radiology, and they seem to be very keen to work together. It's always been a nice professional relationship between head & neck clinicians, radiologists, paediatrics and adults. So I find that rewarding that you can be working as a sort of valued member of their team.
Q. I understand you have been an assessor for examiners on the South West FRCR Courses. Are there any observations you've made which might help examiners become better at examining?
The best examiners are people who listen to what the candidates are saying with a view of trying to help them progress, with both their radiology presentations and the chances of passing the FRCR exam.
The examiners on your particular course are very good. They are very positive about the role and trying to help the candidates. It's a learning thing for the examiners as well when they first start. It's very helpful to have feedback, from when you're assessed by an assessor, and to build on that feedback. Being an assessor, it's very interesting seeing the different styles, which are all valid. It's incredibly interesting seeing all their cases as well. So I find it quite a good learning experience for me.
Q. What is the most important thing a registrar needs to know when they sit the FRCR 2B exam? 
I think the most important thing is seeing lots of cases beforehand so that in the exam you are very unlikely to be phased or surprised by any case. Then you've got a system of dealing with any case given to you in the exam. So I would say go to as many different consultants or senior radiologists as you possibly can, and see their cases. In the months leading up to the exam, see lots and lots of cases.
But in the week or the two weeks before the exam, back off a bit, because you don't want to get yourself overtired or over-prepared.
Q. Any particular advice to Radiologists from abroad trying to sit the FRCR?
I think it's challenging if your first language or mother tongue isn't English. But most of the candidates that I've encountered can come across quite clearly. Sometimes people speak too fast and it's quite difficult to follow their train of thought or understand what they're saying. So I think slowing down is key.
It doesn't matter whether you're overseas or where you're from. It's important that you speak as clearly as you can and quite slowly, particularly if you're struggling with communicating.
Q. How does joining an FRCR course help a registrar?
It's a good way of seeing many different cases and examiner styles, so when you come to the exam, you will be as prepared as you could be. There are lots of different examiners on your course, and that gives a broad spectrum of the type of examiner that you might encounter in the exam. You'll see a lot of cases as well. So I think it's really important to do something like that.
Nobody's perfect, nobody will get everything perfectly done. But you'll be able to learn the things that you could do better and get some positive feedback about how you can improve your performance.
Q. What has your involvement been with South West FRCR and Revise Radiology Courses?
I've been both an examiner as well as an examiner assessor for ten years, maybe a bit more. And I've done it regularly, both in person and in Zoom meetings. So I've got quite a good feel for how the course is and runs and what's expected of the examiners on the course. I think examiners get quite a lot of support and feedback on the course. That is useful for their professional development and teaching experience as well. 
Q. Do you have any advice for how we could better serve the Registrars' needs?
Well, the part that I'm involved in is the FRCR 2B case vivas, so that's really all I can talk about. I think what you do is really good, actually, and I can't really suggest any improvements. I'd say keep adding to your pool of examiners so that you get new cases. And new examiners will have new information and different expertise. I'm not sure what the spread of specialities is that you've got, but from what I've seen, it's quite broad, and probably covers all the areas of the curriculum.