FAQs for Radiologists who are Sitting the FRCR Part 2B Exam

Revise Radiology
August 8th, 2022
Are you planning on sitting your FRCR 2B Exam in September? This article covers everything you need to know, from the application dates, venues, application process, suggested revision plan and courses you can subscribe to in the 3-odd months you have left.
1. Why would you consider sitting the FRCR 2B Exam?
 Once you hold an FRCR degree, you can apply for GMC registration with a license to practice.

The FRCR is an internationally recognised degree which proves that you are a Radiologist who is competent to practice in many parts of the world.

 The curriculum is designed in such a way that you will become a better Radiologist as you prepare for the Exam.

 FRCR credentials will help you apply for corporate hospitals and tertiary care centers.

Interest to work, train or migrate to the U.K. is another reason to sit the FRCR.

The FRCR qualification will add weight to your application for jobs or fellowships outside the UK, especially in the Middle East and Singapore.
2. When and where are the September Exams being conducted?
The Exams begin on Friday, 30th September 2022. The reporting and rapid reporting components will be held on Friday, while the orals will be conducted from Monday, the 3rd to Friday, the 7th of October.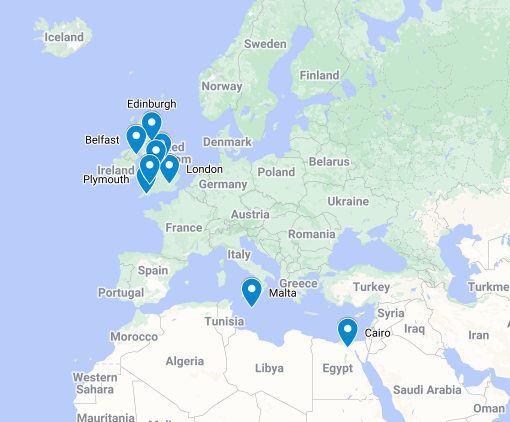 The venues available for the Exam in this sitting are Belfast, Bridgend Wales, Crewe, Edinburgh, Leeds, London, Plymouth, Malta, Cairo – Egypt.
3. Are you eligible to sit the Exam?
If you have passed FRCR 2A and completed 34 months of training (or similar), you are eligible to sit the Exam.
4. How likely is it that you will pass the FRCR 2B Exam on your first time?
The FRCR Part 2B Exam has a general pass rate of 60% on average. However, we at Revise Radiology have found that candidates who use our courses, subscription plans and resources have a pass rate of 95%.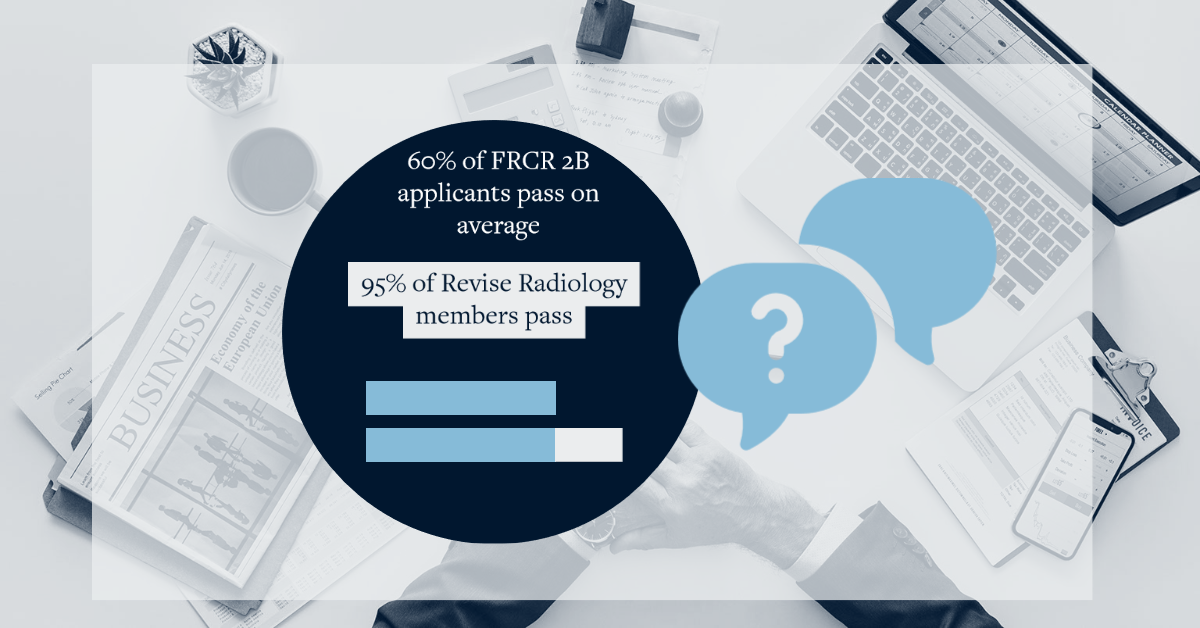 5. What are the expenses involved in sitting the Exam?
The exam fees are £514 (Members of the RCR) and £627 (Non-Members). In addition, there are expenses for your travel to the venue, your accommodation near the venue, and any amount you spend on revision resources to prepare for the Exam. You should expect a total expenditure of around £2000 - £4000.
6. How can you apply for the FRCR Exam?
This article has been edited on 4 July 2022 to reflect the changes made to the application process by the RCR. Please click here to know more about these changes.
For each examination there will be two priority booking dates:

Priority 1: UK trainees, Singapore, Malta and Hong Kong trainees and NHS contributors.

Priority 2: Other global candidates.

Keep your documents ready:

A filled-in application form for FRCR Part 2B. This application form can be found on the RCR website only after the opening dates for application.

A copy of your FRCR 2A result.

Photo ID (preferably passport)

 Fee payments need to be made using a credit or debit card.

If you have special requirements, go through this document from the RCR. You will have to upload the relevant documents at the time of the application.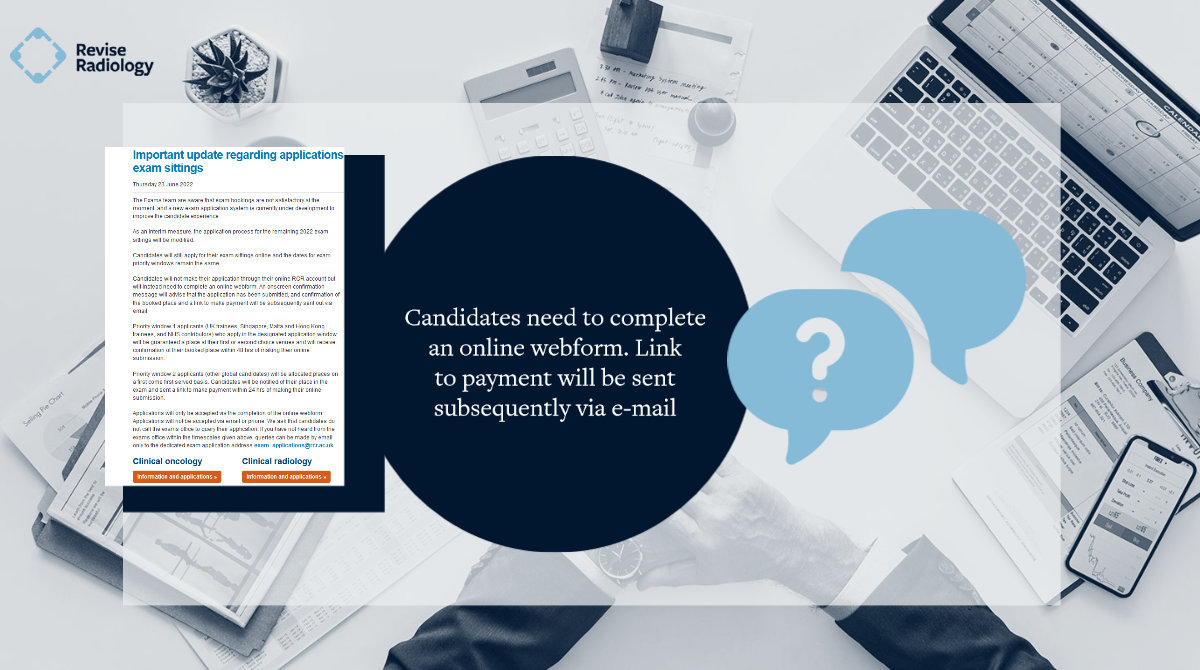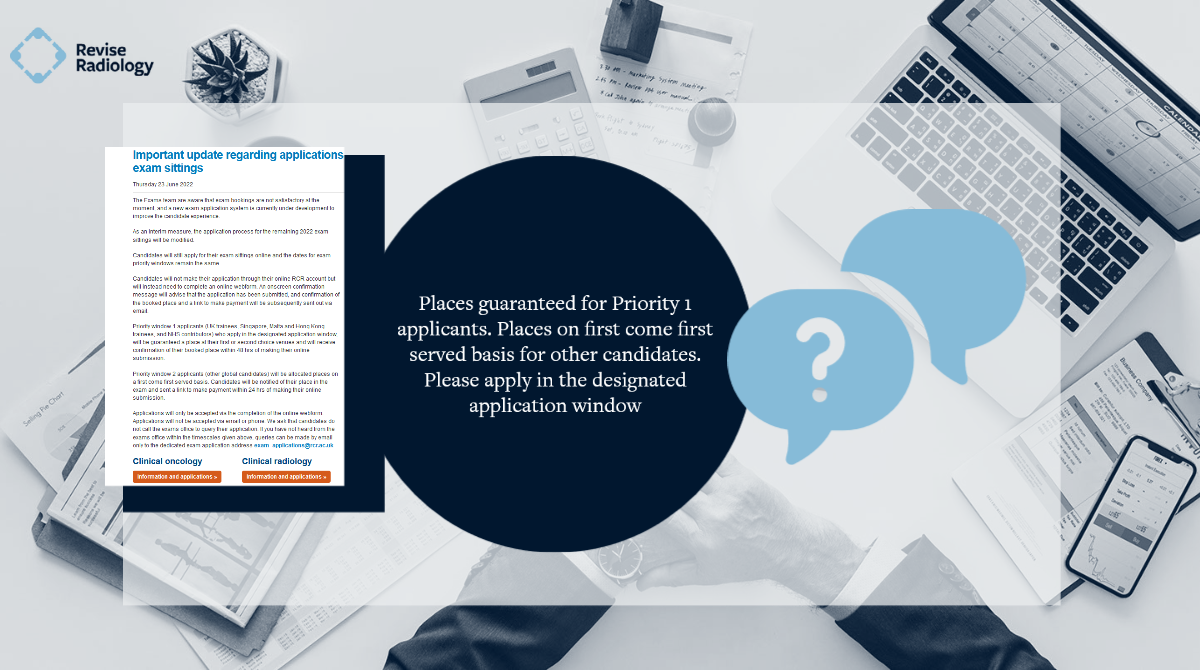 Candidates need to complete an online webform to apply.

An onscreen confirmation message will let you know the application has been submitted, and confirmation of the booked place and a link to make payment will be subsequently sent out via email.

The e-mail will be sent out within 48 hours for Priority 1 candidates and within 24 hours for Priority 2 Candidates

Places are guaranteed for Priority 1 candidates who apply in the designated window. Other global candidates will be allocated places on a first come first served basis.

Contact the Exams Team for application support on the day:

Email: exam_applications @rcr.ac.uk  
7. What revision plan can you follow for success in the time left before the Exam?
Here is a link to a 3-month revision plan we have created based on our success with helping candidates pass their Exams on the first time: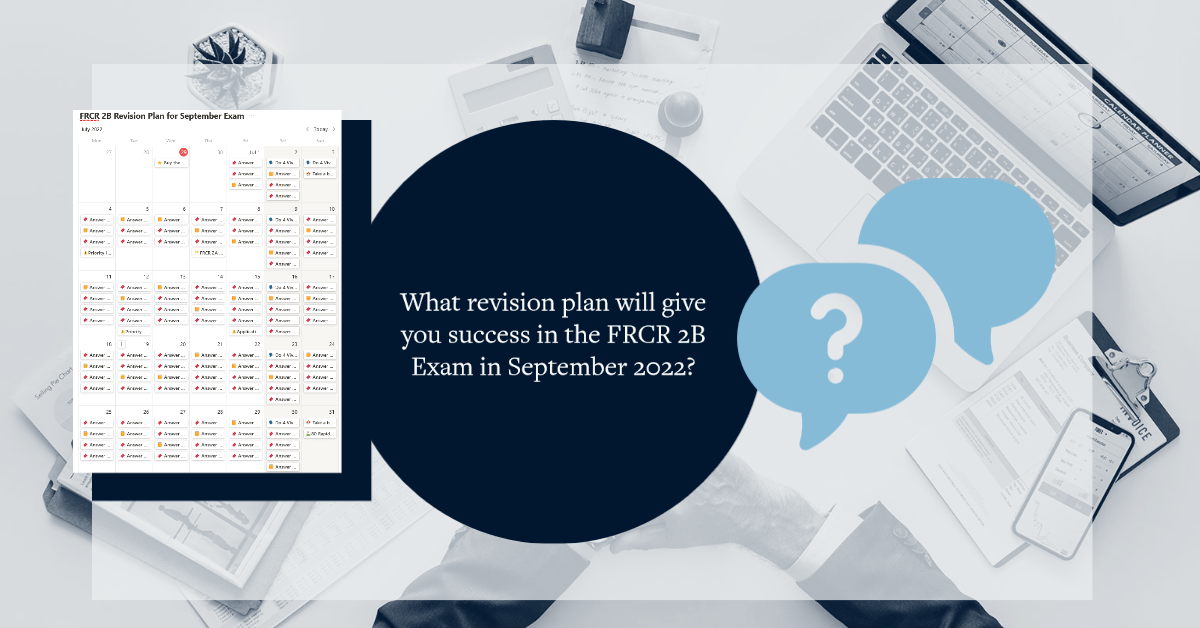 You can adapt this to suit your requirements.
8. What courses can you attend before your Exam?
Here are the things you should look for in a course before your Exam. Remember, it is simpler to take an extra course than to repeat your Examination.
Hot seats in the style of the Exam

Written packets presented on the Exam platform

Sessions which are run to closely simulate the actual examination experience with 15 minutes of viva presentation followed by 10 minutes of feedback.

The selected set of examiners should include experienced as well as new FRCR examiners.

Viva packets used should be of similar standard to the FRCR examinations.

 Opportunities to observe other delegates presenting.

Detailed feedback oriented towards the Exam.

Course conducted online to simulate the Examination.
We recommend attending as many UK courses as possible close to the Exam date. It is good to see a variety of Examiners so you can get used to various Examining styles. You can also get a wider range of feedback.
We hope you found the answers to the FAQs in this guide useful. Best of luck for your Exam!