'How I passed the FRCR 2B exam' with Asmita Chugh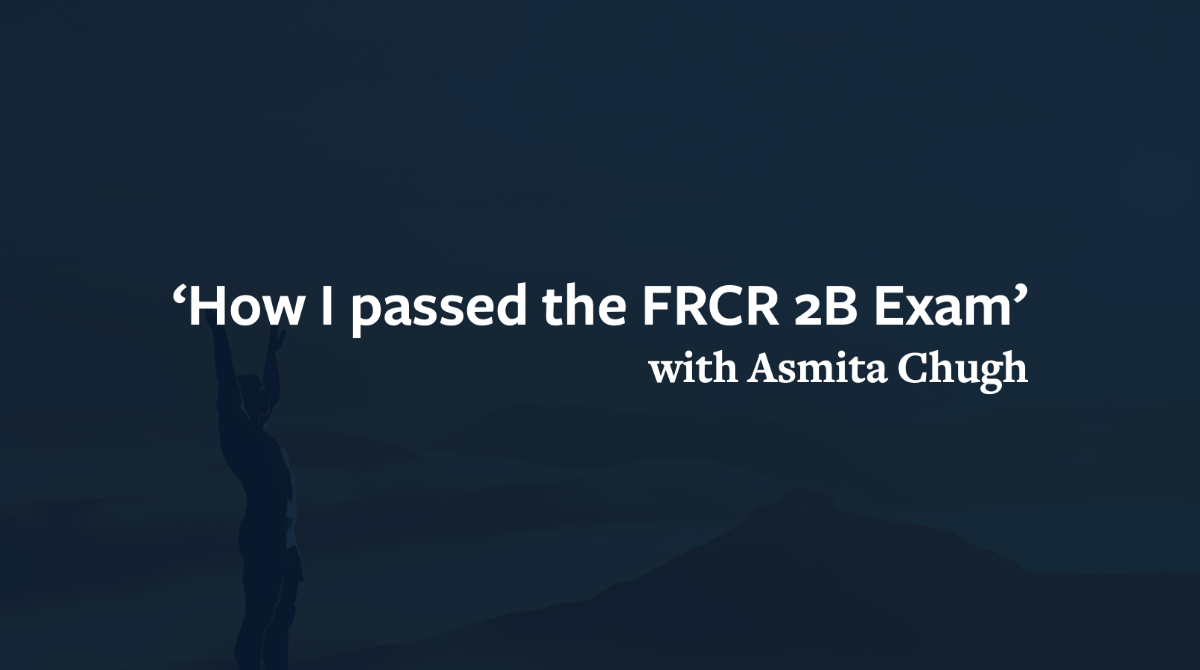 Revise Radiology
August 15th, 2023
Interview with Asmita Chugh
This is a transcript of an interview with Asmita Chugh, a member of Revise Radiology. She was on the Ultimate Course bundle and passed the FRCR 2B exam in March 2023. In this article, she explains what her FRCR 2B exam preparation was like, and how she revised and pulled through the challenges she faced.
Q. Could you tell us a bit about yourself and your career to date?
I completed my post-graduation 3 years ago, in 2020. I started my FRCR journey because I started to feel a lack in my knowledge. The Part 1 and 2A exams were easy, we only had to study the theory of radiology. But for the 2B exam, you really need a study partner and a good platform. When I got a slot for the 2B exam, I happened to come across the Revise Radiology platform. I consulted personally with Dr Koshy and Becky Paul. They assured me that it was possible to sit the exam in two and a half months. I had very little time, so Dr Koshy recommended that I put in 14 hours a day. I diligently followed his advice and I've passed. It's a good feeling.
Q. Could you take us through your FRCR journey? 
The Part 1 and 2A exams were smooth because I was able to manage revision along with my routine practice. The 2B exam was a bit tricky. You need to get at least a 7 in the rapids, the longs require a lot of practice, and you need to know how to present for the vivas. As a radiologist from India, we were never taught how to present cases. But the FRCR demands very different things from us. So the 2B exam was especially difficult for me. I joined Revise Radiology right when I started my 2B revision. I passed the Rapids using only the Revise Radiology Rapid Reporting packets. I also made many friends practising for the vivas on this platform. 
I practised for the vivas as well as the longs with a friend I made through Revise Radiology. I'd already seen 5 out of 6 cases in the exam on the Revise Radiology long case packets. I'm not going to name these cases, but, I can tell you that the cases were included on this platform. That was the same for the vivas as well. I had seen almost all the cases that I got for the viva exam. Time management was a bit difficult for me. When you write an exam, you need to manage your time and typing speed. I took the Ultimate Bundle in which we have all the courses and so I attended the Cairo, Norwich and South West courses. By the time I sat the exam, I had seen everything. There was probably only 1 different case in the exam this time.

Q. Please could you tell us a bit about how you prepared for the FRCR? How much time did you spend on revision? What was your 2B preparation like? What resources and materials did you use for revision?
I sat the FRCR 2B exam twice. The first time, I had just 2.5 months. So, I studied 14 hours a day. I simply slept and studied. That exam was pretty okay, I passed the rapids, the longs and viva1. There was just one non-negotiable mistake I made that caused me to fail. Other than that, that exam actually went well.

I took a break for a month after the first exam to gather my strength to study again. This time, I studied not more than five hours a day, because I was working. I had done the whole thing once, so it was a little easier for me. I was a bit calmer this time. But I made sure to do a minimum of one or two sets of rapids each day.

I started revision for the March exam in December. My morning started with doing rapids from Revise Radiology. Then I would do the longs. I did the longs every day, for at least six days. 
I met a friend through the study groups. So she and I used to sit for about two hours every day to present and examine each other's vivas. Sometimes we also discussed the long cases. We answered the longs and then checked each other's answers, and corrected the mistakes. If we at any point could not understand something, we would go to Radiopedia or another platform to really ingrain those things in our minds.
The study groups are really important and recommended. A study partner is essential if you want to crack the 2B exam. For the rapids, no one can just do it unless they have been practising it for a long time. 
FRCR demands a different approach. The FRCR vivas are not like normal vivas. It's not like presenting a case in India because they'd never ask about the treatment aspect.

Q. What would you say are the big obstacles when sitting the FRCR exams as an overseas candidate?
The first thing is the approach. In India, the focus is on the diagnosis. But the FRCR does not demand that we reach the diagnosis. They test our approach. If presented with an ultrasound, you have to think, what is the next good investigation? What will your approach and investigation of choice be?
Another challenge is obviously the rapids. But I guess that is an obstacle for everyone because the rapids are generally difficult. 
The third challenge is the differentials. We have the mindset that if it is an infection, it can't be a malignancy. But our FRCR training says that it can be anything. You need to evaluate the patient properly. I guess this is the major thing which we, as Indians face.
Another challenge is the management plan. We are not trained that we need to refer this patient to this MDT. We are not concerned about the MDT in India. However, in the FRCR, they are concerned about which MDT to refer the patient to. And what the next management plan will be. 

Q. How can future candidates overcome these obstacles?
To overcome this, I will again say find a good study partner. I sat all my exams while being in India and practising in India. But I got partners who were not from India. From them, I learn that I have to say things in this manner. So find a good study partner. Use the Revise Radiology platform. Through the subscriptions, vivas and course examiners, I got to learn to use the exam platform and the working style in the UK. And especially if you are not working in the UK, it's difficult for you because you are not a UK trainee.
UK trainees are trained in the pattern in which the exam is done. We have to practice those patterns. So find a good partner. Practice, practice, practice. See good videos which are available online and attend courses. Apart from doing the rapids and long, you should attend at least three or four viva days. If you want Cairo and Norwich are two days long. You should attend at least 4 course days before the exam.
Q. How has passing the FRCR changed your life?
Right now, I'm in India and may plan to move to the UK. But as of now, if I consider just reporting, I have improved in many ways. I have become more confident and my approach to cases has changed. Earlier if there was an infection, I believed it couldn't be anything else. Now I'm thinking about various other aspects of what the findings could be. It's not the one and only diagnosis that is possible. There are multiple. And apart from that, because of the differentials that we used to read in Revise Radiology, my knowledge and approach to different cases have also improved.
Q. How did you hear about Revise Radiology?
I heard about it from a friend of mine. At the time, I had just passed my 2A exam and was looking for resources to start 2B preparation. I didn't know the exam pattern, that there were longs, rapids, and vivas. When my friend told me about Revise Radiology, I sent an email to the Revise Radiology team. Becky Paul called me and that's where my 2B journey began.

Q. How has Revise Radiology helped you in your FRCR Journey? What subscriptions/courses did you get?
I took the Ultimate Course Bundle in which I got all the rapids, longs, vivas and all the courses along with the study groups. I can proudly say that I used only the Revise Radiology rapids and nothing was out of the syllabus.

Q. And finally - Why would you recommend Revise Radiology to someone sitting the 2B exam?
The Revise Radiology team is very helpful. They did as much as they could, virtually. You can meet new people through the various vivas and study groups. I met quite a few of my current friends through the platform. When I got to London, I had no friends, but I saw people from Revise Radiology and got a chance to interact with them. Apart from studying, Revise also helps to widen the friend circle.