'How I passed the FRCR 2B exam' with Cameron Spence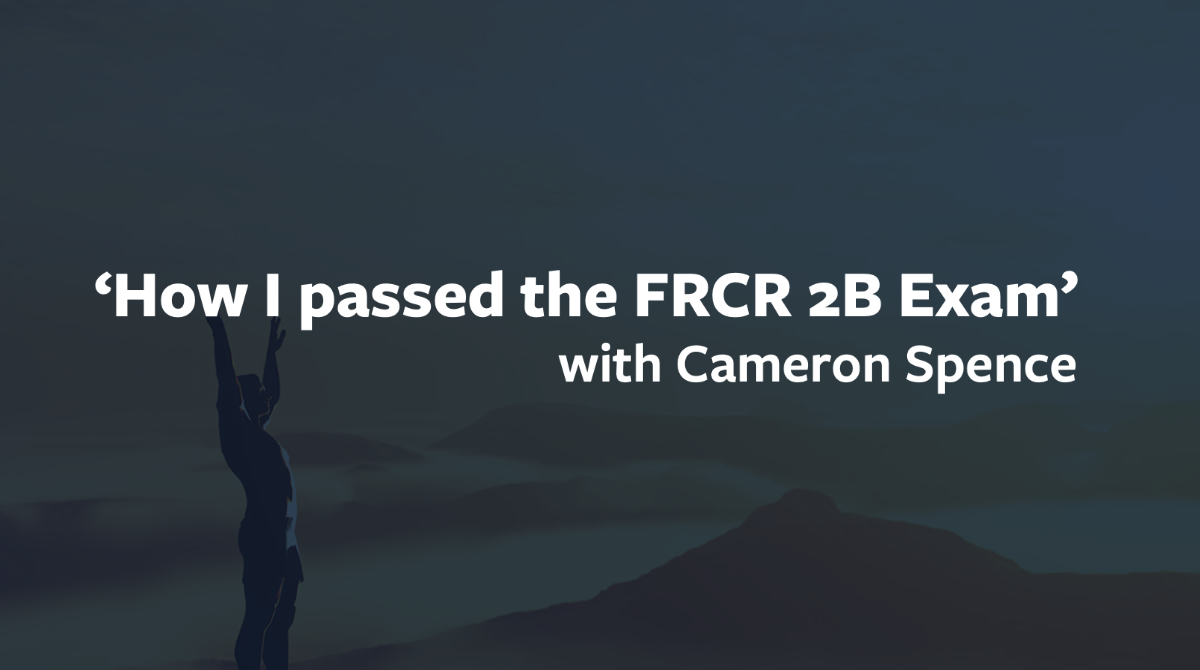 Revise Radiology
November 17th, 2022
This is a transcript of an interview with Dr Cameron Spence, which has been edited for clarity. Cameron passed the FRCR 2B exam on his first attempt in 2022, after revising for 4 months. He explains how he prepared using Revise Radiology's FRCR 2B Combined Subscription and attending our online courses..
My name is Cameron Spence. I was the president of the Society of Radiologists in Training, so I've known Koshy for two or three years now through that. Revise radiology has sponsored some of our conferences. Our registrars and trainees that attend have really benefited from Revise Radiology being at these conferences.

Q. When did you start preparing for the FRCR?
About four months before the exam.
Q. What was your revision like leading up to the exam?

I did all of the Rapid packets, and I probably did about half of the long cases. I attended all of the Viva sessions that I could do, and I went to the South West FRCR 2B Course.

Q. What resources did you use to prepare for the Exam?
We had our own Viva teaching in my deanery. I didn't use any other resources, for Longs and Rapids. I read a couple of Radiology textbooks, mainly with viva cases.
Q. Would you recommend Revise Radiology to someone who is sitting the FRCR 2B Exam?
Yeah, absolutely. I think it's really convenient to have everything [you need] in the same place.
I definitely found that an advantage I had over some of my colleagues is that I was very familiar with the system when I came into the exam because the Revise Radiology longs and the rapids both use the same format.
And yes, I feel like they gave me a really good grounding in terms of when I didn't know what to do. I had quite a good method to fall back on in terms of describing the case and making sure I didn't forget to talk about management and previous radiographs and things. So, I think the monthly Vivas were really, really useful.

By the time it got to the exam, I was just so comfortable having been put in the hot seat so many times.

So I would definitely recommend it to other people. It really helped to have the subscription with both the Viva Teachings as well as the Written Packets
Q. Is there anything which could be improved with Revise Radiology?
There were cases which needed to be updated. Some of them needed to be removed because they were either too easy or too hard. I did see during the course of my preparation that these were pointed out and a note was made of these, and it looks like they're being updated.
Going into the new system, I think I can say I'm pretty satisfied that Revise Radiology has a good active method in terms of keeping their question banks up to date and learning from feedback from previous participants and modernising the course.
I think it's good also to see that they're trying to review their subscriptions so that they can attract more people, potentially, who don't have quite enough to perhaps have been able to afford to attend the courses previously. I can see that that's something that's been taken on board. It's been a really positive experience.