Faculty Focus with Dr Gauri Babu: How the FRCR equips you for a career as a Consultant Radiologist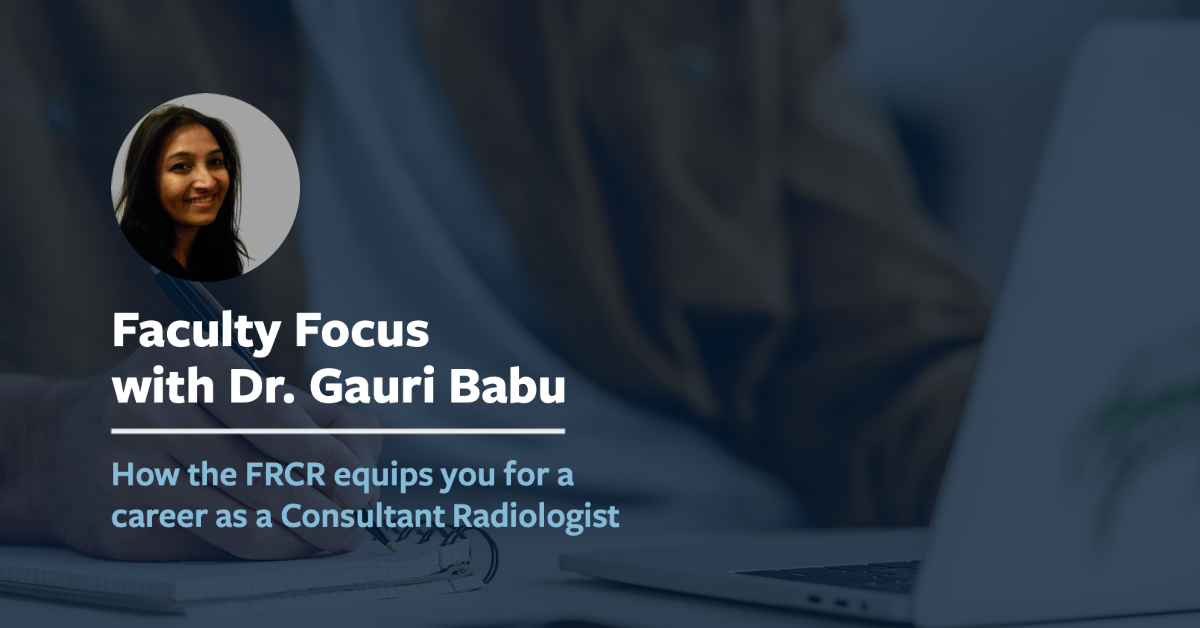 Revise Radiology
September 16th, 2022
My name is Gauri Babu and I'm a Consultant Radiologist. My area of sub-specialty interest is symptomatic and screening breast imaging. I work in Edinburgh and I work between Western General Hospital and the Southeast Scotland Breast Screening Center. I completed my training in the UK, and I've been working here as a Consultant since.

I am one of the organisers of the FRCR Breast Imaging Course run by Revise Radiology. The course aims to equip FRCR 2A and 2B candidates with the knowledge of breast imaging they need to tackle their Exams.

Q. How long ago did you sit the FRCR 2A exam and what was it like at the time?
I sat the exam several years ago, and it was a different type of exam. We had six modules back then. The college changed it back to a single exam, and it has a different format as well.

Q. What was your preparation like for the exam then?
There were no preparatory courses at that point, so it was all reading from books and from my clinical placements. I completed my Neuro block, then my MSK, then moved on to the next. The exam used to run about two to three times a year. I sat three modules and then I did three after that.

Q. In your opinion, did preparing for the 2A exam make you a better radiologist?
Well, the FRCR exam in general makes one a better radiologist because it's a very well-structured exam. The 2A is a very knowledge-based exam, you've got to read a lot, whereas the 2B is sat at the end of the third year. So, you've gone through quite a bit of radiology before you sit the 2B.

The 2A is much earlier in the course of your radiology training. It's more clinically based on what you would encounter in your day-to-day life as a trainee in your placements. A lot of the focus is on how you would maybe address a case in an MDT or approach it on your on-call.

Q. How was your career enabled by the FRCR?
The UK has always led the way in Radiology training and education. The way the exam is structured prepares you to be a better radiologist.

It would be difficult for me to comment on this because I have not worked as a non-UK radiologist. All of my experience has been within the country that I've done all my training in, so it was just a part of the five-year training and the various examinations for us to be signed off to be a practicing radiologist.
Q. What are your current specialisations and interests and what made you interested in them?
I've always liked radiology because it's like a problem-solving exercise. The clinician gives you a problem and you solve it as you give them an answer. But at the same time, I specialise in breast radiology. I like the intervention which goes with it as well as the patient contact. As a radiologist, you sometimes miss out on the clinical aspect, which is the patient contact. But with breast radiology I felt that it was kind of satisfying on all points.
Q. Could you give us a little background on you as a teacher and how you came to think of the FRCR Breast Imaging course?
The concept of the course arose about a year ago when I did a little taster session for the 2A exam with Revise Radiology. At that point, we contemplated whether it would be nice to run a preparatory course. It took some time for the concept to grow into reality.  
The 2A exam is a challenging exam. The questions are often framed like clinical scenarios. I felt that giving candidates insight on how to approach these questions might be a good tool for them in their preparation. That is the whole concept behind the FRCR Breast Imaging Course. 
Also, there is not a lot of focus on breast radiology during training, especially for non-UK radiologists and trainees. They do not have a lot of exposure on how to approach a breast case for both parts of the exam. This doesn't actually limit the course to 2A because what we are going to discuss in the course is certainly going to help them for their 2B exam preparation as well.
Q. What advice do you have for registrars who are sitting the FRCR Exam soon?
Sign up for our course!