'How I Passed the FRCR 2B Exam' with Sanjana Shetty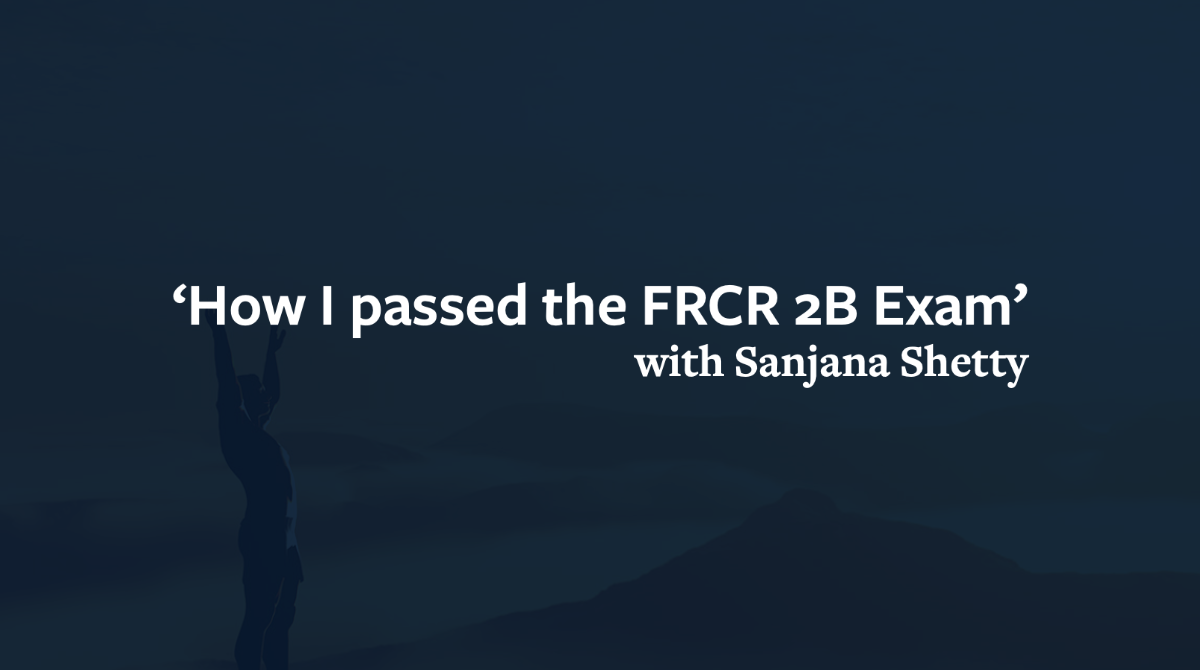 Revise Radiology
May 30th, 2023
Interview with Sanjana Shetty
This article has been taken from a transcript of an interview with candidate Sanjana Shetty. Sanjana had the FRCR 2B Combined Subscription and attended just about every online viva course run during her exam preparation period. The tri-weekly study group sessions were of immense help to her and are one of the things that made all the difference in her preparation. Read about her experience preparing for the 2B exam.
Q. Could you tell us a bit about yourself and your career to date?
I live in the UK. I work as a teleradiologist. I've done clinical attachments previously in Manchester and currently in Northampton. I have been preparing for the FRCR on the side. I've been a member of Revise Radiology for a few months now. I sat the FRCR 2B exam earlier in September, and weirdly enough, I found that attempt to be much easier. The longs were quite straightforward, and I was quite confident with the rapids back then. This attempt was quite tough in comparison. The longs were not straightforward at all. There were a couple of tricky cases and there was one case with only one modality. It was hard to pinpoint what the diagnosis was. The Viva's levelled the plain for me. That's how I managed to pass all four stations.
Q. Please could you take us through your FRCR journey?
I started my FRCR journey in March 2020 and it's ended now in 2023. My part 1 and 2A revision were both self-study, with no courses or subscriptions. 2B was a bit of a challenge because of how it is. It's not that the exam is tough, but it's easy to fail if you don't do well in one or two sections. Many have failed by a mere 1 or 0.5 score. The margin of error allowed is very small and I was unsure of how to go on. But what improved from the last time is the amount of viva exposure I've had. That's because Revise Radiology started the study group sessions three times a week. It helped with dealing with the stress of sitting for a viva. I've used only the Revise Radiology rapid reporting packets. For the longs as well, I used Revise Radiology primarily. But I also used FRCR Longs.
Q. Please could you tell us a bit about how you prepared for the FRCR? How much time did you spend on revision? What was your 2B preparation like? What resources and materials did you use for revision?
I actually had a partner, Asmita. She's also a part of Revise Radiology. After we finished our day-to-day work, we would sit 1 long and 2 rapid packets. It would vary depending on how much we were able to do for that day. We would then discuss it, or what our mistakes were, and things like that. We also attended all the Revise Radiology courses, whatever was available. So we got a lot of experience sitting on the hot seat. I have actually attended most of the Revise courses. I attended the CMC Vellore course, which is very good. The SouthWest, Cairo and Norwich as well. I also attended the Monthly Online Vivas on the first Saturday of every month. I didn't miss any of them because I wanted to get the benefit out of them. Things got quite busy towards the exam when we had the vivas three times a week. Those vivas were with strangers, random people. That was definitely a good experience for both of us. We've both worked very hard and managed to pass. It's a tough exam and you can fall short of 0.5. But, we made complete use of the resources. They were of top-notch quality and we took whatever we could get out of it.
Q. What would you say are the big challenges/obstacles when sitting the FRCR exams as an overseas candidate?
There's a difference between a UK and a non-UK candidate. Global candidates tend to give the impression that they are less confident. But they have all the knowledge necessary to pass the exam. That's sometimes quite unfortunate. Probably that's what happened to me last time. The confidence level isn't up there. We need to use the buzzwords that examiners want to hear. Even if you're not sure of what it is, you need to come up with sensible management of that case. You don't necessarily need to be the brainiest person in the room but just a safe and sensible radiologist. I needed to learn how to wrap up a case quickly, give sensible management and move on to the next case. We are not taught that in India. It's about knowledge, and not how to present the best of what you've studied. But other than that, there's not much of a difference.
Q. How can future candidates overcome these obstacles?
Studying with partners or with strangers in these study groups three times a week. You meet someone new in that viva room, and that helps. Practice, practice, practice. Because after a certain point, you go into that zone where you're not nervous and don't care. It's only you and your case, you're trying to get the best out of it and do your best. Speaking from experience, fear puts you down and makes you forget what you might know. You need to be able to move on to the next case with a clear mind. If not, you ruin the next case and the third and the fourth case. All because of a lack of confidence. I got a lot of valuable feedback from the courses I attended.
Q: How has passing the FRCR changed your life?
First of all, it's a huge relief because it's a very stressful exam. I am very happy because I put in a lot of effort. I spent a lot of money on this exam, the courses and things like that. It's definitely changed my life.
Q. How did you hear about Revise Radiology? 
I heard about Revise Radiology online. I was looking for courses on Google, right after I passed the 2A exam. I found this and I was quite happy with it. I quite like the software. It makes you get used to scrolling in the exam. I didn't have any problem getting myself acclimatised in the exam. That was a very good thing, especially for the rapids and longs. There are also so many cases. Good quality long case packets with lots of variety. Some were challenging, some were quite standard. I would highly recommend using revise radiology and all of the benefits it has to offer. It gives you a good base and it was my primary study material.
Q. How has Revise Radiology helped you in your FRCR Journey? What subscriptions/courses did you get?
I was always on top of everything. I was part of the group and so I would subscribe to whatever was coming up next. I also like that even if I was busy and might have missed a few teaching sessions, I would see a reminder on the group. I got reminders that the session would start in an hour, or that the session had already started. It's a very good, well-oiled machine, I have to say. I'm quite happy with the way the platform is. It's brilliant.
Q. And finally - Why would you recommend Revise Radiology to someone sitting the 2B exam?
Yes, I owe it to you guys. If the platform wasn't there, I think I would have struggled quite a bit. First of all, the exam is hard, but it would be that much harder to reach that level. So thank you so much.
The Study group sessions are included in the Monthly Vivas and Teaching, and the FRCR 2B Combined Subscriptions. We also highly recommend the Ultimate Course Bundles which are a combination of the 2B Combined Subscription with all the courses you need for your exam preparation.